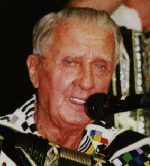 Frank Yankovic
...Sheet Music, Accordion Books, Video Tapes, and Souvenirs
See Also The Recording Library Of The King
E-Z Play Accordion Polkas & Waltzes Book For Beginners... $8 each
Yankovic Sheet Music
The Sheet Music Library Is Very Large. Please Request By Song Title. $2 each if available.
Music Books 1 Thru 14 are available for $10 each.


Yankovic Souvenir T-Shirts
SM, MED, LG, XLG, XXLG...$14 each
XXXLG... $18 each
Yankovic Hats... $7 each
Yankovic Hankies... $2 each
Yankovic Aprons... $12 each
Contact Ida Yankovic and order products directly by writing
Ida Yankovic
403 Ashwood Court
Greensburg, PA 15601
(724) 771-4754
Prices INCLUDE Shipping and Handling.
Canadian and Off-shore orders... US$ Only, please.
See Also The Recording Library Of The King
E-Mail at nancy@polkas.com Your comments are welcome and appreciated.